About Us
Our company, Atri Lifesciences Private Limited did thorough market research into the cosmetic industry and used the findings to develop our own unique line of products. Since the formation of our company in the year of 2021, we have been supplying the most effective range of cosmetic goods as a manufacturer, supplier and exporter. In a short period of time, we have experienced significant growth among many key clients since we give them with high quality goods such as Anti Dandruff Herbal Hair Oil, Skin Lightening Face Wash, Private Label Cosmetics, Aloevera and Tea Tree Oil Beard Wash, Hair Growth Oil, etc., at a fair price range. Furthermore, we plan to broaden the reach of our products to more potential customers by implementing innovative marketing tactics.
Our Team
We have never had a problem meeting the ever-increasing requirements of the customers because we are supported by the most dedicated team of professionals. Our experts all have extensive industry experience, which they use to provide clients with unique and inventive solutions. Furthermore, the following are the areas where our team focuses:
They maintain a continuous production process to ensure that all demands are met in a timely and efficient manner.
They ensure that every manufactured batch is rigorously tested to ensure that it meets the highest quality standards.
They believe in working together as a team and successfully completing all company tasks.
They make certain that each customer is treated with highest regard and sincerity.
Infrastructure
To meet the ever-increasing demands of the market, we keep a continual production process in our top-of-the-line infrastructure. Our infrastructure was built with modern architecture in mind and spans a broad area to ensure that all activities are completed to the best standards. In our infrastructure, we have a modern production plant where we use all of the necessary resources to produce high-quality goods like Skin Lightening Face Wash, Aloevera and Tea Tree Oil Beard Wash, Anti Dandruff Herbal Hair Oil, Hair Growth Oil, Private Label Cosmetics and a range of others. Our infrastructure also incorporates a huge warehousing facility, where the manufactured goods are carefully stored and delivered to the customers on time as needed.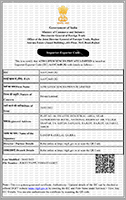 Read More